85 min.
Kinda started this out of boredom, decided to stick with it because it told me a lot about Hollywood (history) I didn't know yet. And showed a lot of cool stunts (which are usually also very dangerous, shouldn't be reenacted and there should probably be a conversation about how it's time to CGI stunts before anything else).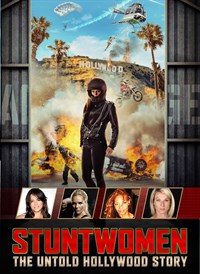 It's the untold story, but at the same time and all too familiar one: women aren't as appreciated in their job as men (in the same function).
Starting out, it was more women than men doing stunts. Then it turned out that money was to be made, and men came in in droves. Women have to be a carbon copy of the actress they replace: men are done after putting on a wig. Men are hired for every job (background victims, for example) with little experience, women didn't because they "didn't fit the bill completely" or "I don't like to see women shot" – director's quote.
Yet they – as in any other job – persevere(d). Sometimes by doing the too dangerous job (an interviewed stuntwoman broke her back twice), but they have so much passion for what they do that it's hard to stay away.
Inspirational and motivational – both about standing your ground in the work place and I really want to pick up all kinds of martial arts, boxing and trampoline jumping right now.